Today marks the nine-year anniversary of the first ever reported transaction using Bitcoin to make a purchase. A Florida-based, early crypto supporter spent 10,000 BTC on two pizzas, making history through a mundane meal purchase. Since then Bitcoin price has grown exponentially and the asset has become a widely recognized name in the financial technology sector, and sparked the creation of an entire industry of competition cryptocurrencies, all vying for Bitcoin's top spot.
On this ninth anniversary, across the crypto industry people are celebrating and looking back to honor the monumental event that may have set Bitcoin on its path to success some nine years ago.
Laszlo Hanyecz: Meet The Man Who Spent 10,000 BTC on Two Pizzas
On May 22, 2010, while Bitcoin was still virtually worthless and in its infancy, a Florida man named Laszlo Hanyecz, set out to make the first ever purchase using Bitcoin. The cryptocurrency wasn't accepted anywhere at the time, so Hanyecz sought support through the BitcoinTalk forum he had been a member of.
Related Reading | Why The Next Bitcoin Bull Run Could Eclipse The Last Crypto Bubble
There, Hanyecz corresponded with mysterious Bitcoin creator Satoshi Nakamoto and helped support the early development of the cryptocurrency. He also leveraged the community to find someone to agree to have two Papa John's pizzas delivered, in exchange for 10,000 BTC.
"I'll pay 10,000 bitcoins for a couple of pizzas.. like maybe 2 large ones so I have some left over for the next day," Hanyecz wrote.
Hanyecz was even willing to take a loss on the transaction, as the two pizzas valued at $25 cost him 10,000 BTC, which was valued at $41 at the time. But he had no idea of how much these pizzas would eventually cost him – as the 10,000 BTC would be valued at somewhere around $78 million today.
Crypto Industry Commemorates Bitcoin Pizza Day In a Variety of Ways
Across the crypto industry, respect is being paid to Hanyecz for the sacrifice he made nearly a decade ago. Without Hanyecz's contribution to early Bitcoin development and usage, the crypto asset may never have been viewed as the means of transferring value it is today.View image on Twitter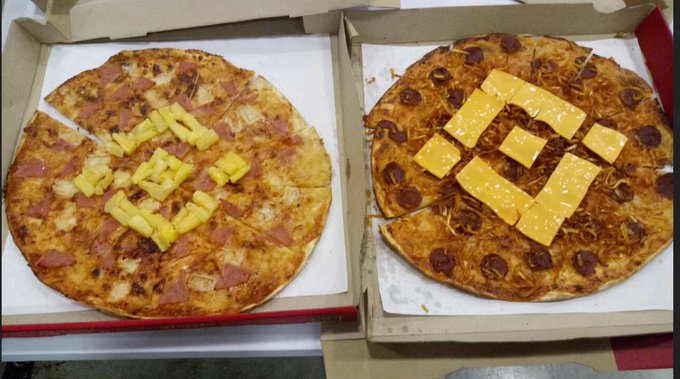 So… Pineapple on pizza ?#BitcoinPizzaDay #MyBinance83911:24 AM – May 22, 2019302 people are talking about thisTwitter Ads info and privacy
Binance is celebrating by sharing images on social media of two pizzas adorning the exchange's logo.
Happy #Bitcoin Pizza Day(May 22nd). Create your own #TRONPizza with your imagination to win #TRX rewards. Click to know more about #TRON pizza campaign. $TRX https://medium.com/@Tronfoundation/tron-pizza-campaign-930d4e11faeb …5262:59 PM – May 21, 2019Twitter Ads info and privacyTRON Pizza CampaignShow your imagination and create your own "TRON Pizza" to win TRX rewards.medium.com296 people are talking about this
Tron founder Justin Sun also is getting in on the celebration, offering up Tron supporters a way to customize their own Tron "pizza," and users could be rewarded for their creativity.View image on Twitter
Happy #Bitcoin Pizza Day !#BitcoinPizzaDay #bithumbglobal76:07 AM – May 22, 2019See Bithumb Global's other TweetsTwitter Ads info and privacy
Bitthumb has shared an image of a scale, showing pizza and a "nice car" as an example of what Bitcoin could buy then versus today.View image on Twitter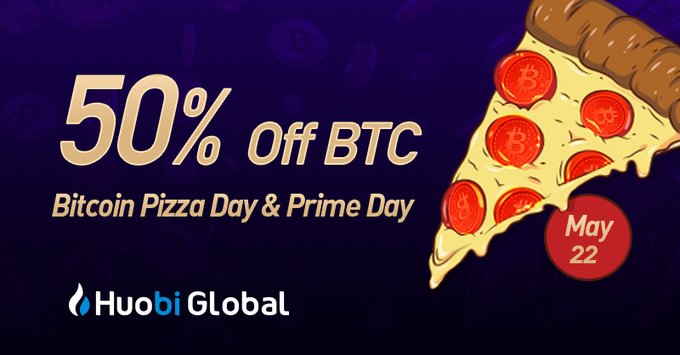 Have questions on our upcoming PrimeBTC sale for Bitcoin Pizza Day (AKA Prime Day) on May 22? Just want to know what to do? Try our handy user guide today. Details: http://bit.ly/2Hp876k $BTC #ItsPrimeTime642:48 AM – May 18, 201918 people are talking about thisTwitter Ads info and privacy
HuobiGlobal is offering 50% off Bitcoin to commemorate Pizza Day, but requires a number of conditions be met.View image on Twitter

9 years ago a guy called laszlo paid 10,000 bitcoins for 2 pizzas!

Original thread: https://bitcointalk.org/index.php?topic=137.0 …

Value today: $80,000,000

Happy bitcoin pizza day!4299:17 AM – May 22, 2019146 people are talking about thisTwitter Ads info and privacy
And of course, even everyday crypto investors and traders are showing their appreciation for the historic crypto event.