Bitcoin May Experience "Sizable Correction" Before $10K, BTC Tops Out: Traders
No matter how the Bitcoin (BTC) price acts, bearish analysts always make their voices heard. Once the crypto asset exploded above $8,400 on Sunday, pushing to a smidgen shy of $9,000, these somewhat cynical traders have come out of the woodwork to suggest that the party for Bitcoin may soon end.
After Bitcoin Spikes To $8,900, Analysts Await Drawdown
The cryptocurrency market is unlike no other. On Sunday, the entire asset class gained 10% as a surge of buying pressure brought BTC to new year-to-date highs. While some have seen this continuation of a sign of an imminent "moonshot", others have kept skeptical.
Legendary commodities trader Peter Brandt, an analyst who is about 50% sure Bitcoin will succeed, notes that with this foray to near $9,000, Bitcoin has entered the "FOMO phase" of this parabolic advance. This suggests, for those unaware, that the advance may soon be reaching a local peak, meaning that a drawdown is nigh.
In fact, Brandt suggests that "once a majority of sold-out crypto bulls capitulate… a more sizable correction will likely occur." The trader didn't mention when or where such a correction would begin, but his targets for this move are $9,320 and $10,600.View image on Twitter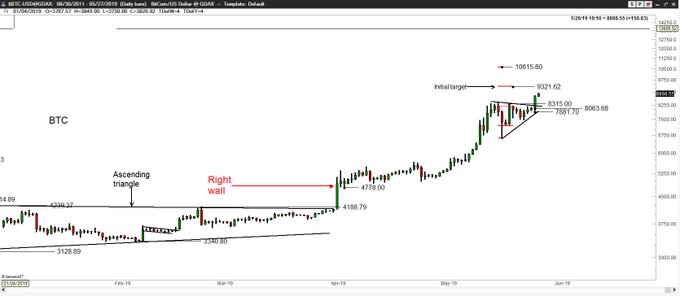 This is the FOMO phase of the advance. Once the majority of sold-out crypto bulls capitulate and chase this rally a more sizable correction will likely occur, stopping out the same bulls, who are chasing this advance.1,9851:10 AM – May 27, 2019656 people are talking about thisTwitter Ads info and privacy
He isn't the first to have suggested such a move is on the horizon. Trader Walter Wyckoff notes that throughout Bitcoin's two historical cycles, BTC always rallied from lows to its 0.382 Fibonacci Retracement level from the last top, and then experienced a 40% correction prior to the next bull run. As it stands, the cryptocurrency's 0.382 Fibonacci sits at $9,500, implying that BTC will soon enter that region, and then retrace 40% to $5,800.
Pretty sure the top for $BTC is 9,800$ before pulling the usual 40% drop. Every cycle when it rallies from the lows, it gets "briefly" rejected by the .382 fib level from the last top, drops 40% and then continues the uptrend.
A 40% rejection would bring us to 5,8006887:59 PM – May 27, 2019Twitter Ads info and privacy200 people are talking about this
Bulls Beg To Differ
Although Brandt & Co.'s harrowing comments have merit, some are sure that Bitcoin isn't stopping its surge soon. Fundamentally, BTC and its respective market still look strong.
In fact, Binance, one of the largest digital asset exchanges, purportedly — according to CEO Changpeng Zhao — saw a system traffic all-time high "by far" on Monday. Considering that the cryptocurrency industry is barely out of a "crypto winter", and the market is still 70% down from its all-time highs, this fact is jaw-dropping. Data aggregated by CoinMarketCap shows that Binance has processed over $3.07 billion worth of cryptocurrency trades in the past 24 hours, while all "exchanges" processed $103 billion.
More broadly, the underlying infrastructure of the industry is nothing like it was in previous cycles, even at the peak of 2017's rally. In 2014, were Fidelity Investments, E*Trade, Microsoft, TD Ameritrade, Nasdaq, and their Wall Street and Silicon Valley brethren involved in cryptocurrency and related technologies? No.
Technicals also back the idea that $10,000 may not be the local top. Well-regarded analyst Alex Krüger reminded his followers that Bitcoin still has room to run. In the tweet below, he noted that the last time BTC was this overbought on its daily chart's Relative Strength Index (RSI), December 6th of 2017, a "parabolic move ensued". In fact, BTC rallied from $13,700 to $20,000 in the coming ten-odd days.
What this suggests is not only is BTC able to rally strongly in "overbought" territory but it can shock investors' expectations too. That's the thing, Bitcoin is not known for moving in a rational fashion, as it remains an early-stage, speculative, and paradigm-shifting asset that is not confined by the laws of paper, traditional equities. Because with what other asset classes do sudden 10% spikes — on a Sunday no less — come to fruition?
Last time $BTC was this overbought (RSI) on a daily chart was December 6, 2017, with price at $13700. Back then, a parabolic move ensued.22512:54 PM – May 11, 2019Twitter Ads info and privacy37 people are talking about this
And Finance blog suggested in a previous report on the surge, Thomas Lee, the head of research at Fundstrat Global Advisors, explained to his followers a few weeks back that by the time BTC hits quintuple digits, the fear of missing out (FOMO) will activate in those who "saw Bitcoin as dead forever." In other words, once the aforementioned level is breached, a newfangled, jaw-dropping wave of buying pressure may grace these markets.